JUTE THE WAY YOU LIKE IT: The Best Jute Rugs For Your Home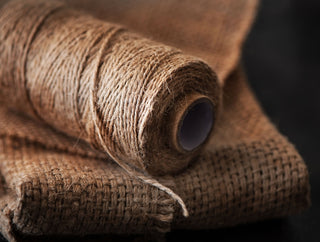 JUMP FOR JUTE
The Perfect Blend of Elegance and Sustainability
When it comes to enhancing the aesthetics of your home, few things can compare to the charm and natural beauty of jute rugs. These eco-friendly floor coverings have gained immense popularity in recent years, and for good reason. Not only do they add a touch of elegance and warmth to any space, but they also contribute to a sustainable lifestyle. In this blog post, we will delve into the world of jute rugs, exploring their unique features, benefits, and how they can transform your living space into a stylish sanctuary.
WHAT IS JUTE?
Jute is a natural fiber that is grown in many parts of the world, including India, Bangladesh, and China. The fiber comes from the stem of the jute plant; after processing, the fibers are most often woven into cloth, which has uses in many industries.
Jute is an incredibly versatile material that can be used for a variety of applications, including clothing, bags, and home decor. Jute fabric is a popular choice for eco-friendly products, as it is a renewable resource that is biodegradable and compostable.
One of the benefits of jute fabric is its durability. It is a strong material that can withstand wear and tear, making it a great choice for products that need to be sturdy. Jute is also naturally heat resistant and has a low thermal conductivity, which makes it a good insulator.
Jute fabric is also known for its unique texture and appearance. It has a natural, earthy look that is perfect for creating a rustic or bohemian feel in a space - just perfect for our range of rugs! It can be dyed in a wide range of colours, but it is also beautiful in its natural state. Its texture also makes it ideal for adding visual interest to a room!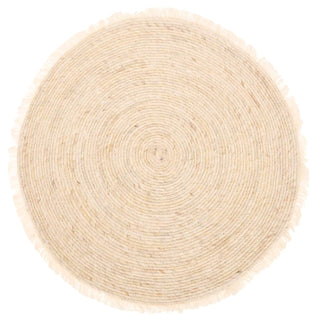 Boho Tassel Rug Braided Area Rug 80cm
We love this jute rug's softer, lighter styling - its classic shape and simple natural finish means it seemlessly blends with a huge range of interior styles and colours.

Crafted with the utmost care, this exquisite braided jute rug features a reversible design for increased longevity and is hand-woven, with authentic finishing touches
With its tight weave and stylish tassel trim, our most popular round jute rug is sure to add a warm and inviting touch any room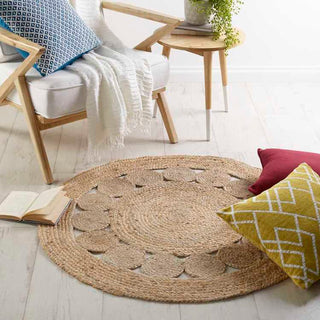 CIRCULAR STYLE
Round Bohemian Braided Circles Jute Area Rug 80cm
The circular pattern throughout this beautiful braided jute rug really brings a sense of softness and calm to any interior.

Our bestselling boho rug welcomes you with its homely style, making it a perfect addition to any room. Whether placed in an entranceway, bedroom, living room, hallway, or conservatory, this gorgeous jute rug adds a warm and organic feel.

Hand-woven with natural finishing touches, this beautiful scatter rug is reversible, ensuring enhanced durability
INJECT SOME COLOUR IN YOUR LIFE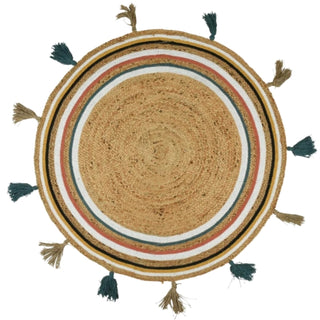 Multicoloured Stripe Braided Jute Area Rug 90cm
We think this dashing jute rug would be perfect for any boho, maximalist space! Its rings of lovely bright colours would also suit an older child's room wonderfully - an ideal blend of mature rustic styling, and childlike whimsy.

Hand-woven with colourful accents, tufted tassels, and natural finishing touches, this unusual jute scatter rug brings a warm, organic feel to your space.
Crafted from eco-friendly sustainable jute fibers, our most colourful jute rug is soft, durable, and easy to maintain
WHY CHOOSE A JUTE RUG FOR YOUR HOME
Unparalleled Elegance:
Jute rugs exude a distinct natural charm, adding a touch of rustic elegance to any room. Their earthy tones, ranging from warm beige to rich brown, effortlessly complement various interior design styles, from contemporary to bohemian. Whichever room they are placed in, they instantly elevate the overall aesthetics of your space
Eco-Friendliness at Its Best
Jute is a renewable and biodegradable resource, making it an excellent choice for environmentally conscious individuals. As a fast-growing plant that requires minimal water and pesticides, jute production has a significantly lower environmental impact compared to synthetic materials
Durability & Versatility:
Jute rugs are not only visually appealing but also built to last. Their sturdy construction makes them an ideal choice for high-traffic areas of your home. Additionally, jute rugs are highly versatile and can seamlessly blend with different decor styles. Whether you have a minimalist, eclectic, or traditional interior, jute rugs effortlessly adapt to your existing aesthetics
Comfort Underfoot
One of the most enjoyable aspects of jute rugs is the soft and comfortable feel they provide underfoot. Jute fibers have a natural cushioning effect, making these rugs perfect for cultivating cosiness in your home. Whether you're lounging with a book, playing with the kids or hosting a party, the tactile experience offered by jute rugs adds an extra layer of comfort to your floors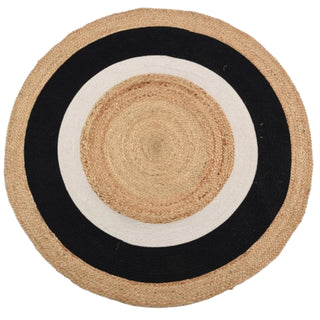 Natural Jute Black & White Cotton Area Rug 120cm
This black and white striped jute rug's monochrome palette is nothing short of utterly striking, and its larger size makes it ideal for bigger spaces.
Adding texture, depth and dimension to any living space is easy with our attractive black and white jute area rug.
The natural jute and cotton fibers make it super soft and comfortable to walk on, so it's perfect for areas where you frequently go barefoot. Added to which, jute has fantastic insulation properties, making it an excellent choice for cold winter floors.
With its natural, organic look, this beautiful boho scatter rug effortlessly complements any interior style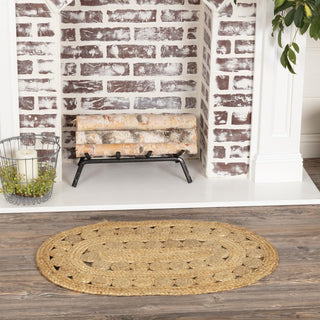 OOH OOH OVAL
Oval Rug Braided Area Rug 80CM
The unique oval shape of this rug really stands out - perfect for rectangular spaces! It would fit particularly well in an entry- or hallway, but it's so versatile it can go really anywhere.

This oval shaped boho rug exudes a warm and inviting style, making it a great addition to any room in your home.

Hand-woven with natural finishing touches, this beautiful braided oval scatter rug boasts enhanced durability through its reversible design.

Crafted from 100% eco-friendly sustainable bulrush fibers, our unique oval jute rug is ideal for environmentally conscious customers
Enhance Your Home with Exquisite Jute Rugs
Jute rugs offer a unique blend of elegance, sustainability and versatility, making them an exceptional choice for any homeowner.
With their natural beauty, durability, and eco-friendly attributes, jute rugs have earned a well-deserved place in the hearts and homes of individuals who value both style and sustainability.
By encorporating these timeless rugs into your living spaces, you can transform your home into a haven of charm and environmental consciousness.
Embrace the allure of jute rugs and take a step towards creating a more beautiful and sustainable home.