About us
Carousel Shop is an independent retailer, offering a broad range of carefully selected, fairly-priced homewares, toys and gifts - unifying traditional, local, family-run shop values with modern, efficient, e-commerce customer service.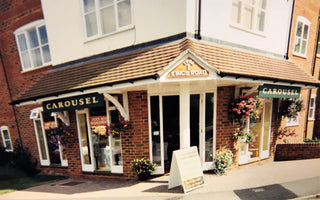 Here's our Story
Established in June 1998, Carousel began as a small village shop in Shalford, just outside Guildford in Surrey. In fact, we were actually only 'the corner' of a small village shop in Shalford!
Our founders, David and Clare Turvey, decided to start selling new children's toys in the corner of a 2nd hand clothing shop.
This proved very successful and it wasn't long before we were taking over the entire shop with a beautiful selection of traditional wooden toys and games, while slowly phasing out the 2nd hand clothing.
In August 1998 the keys were handed over and we were the proud owners of a delightful Children's Toyshop called Carousel.
Many customers will remember us as 'the colourful toy shop on the corner with the flags', we were also often referred to as an 'Aladdins cave' and, also, 'Pandora's Box'. You wouldn't believe it unless you saw it, but every possible shelf, space and cubby hole was utilised to its full potential with toys covering entire walls and most parts of the floor. Yes, we admit it, it was sometimes difficult to move around the shop, but that was how we liked it! Occasionally the perfect soft toy would just fall into your hands and would have to be purchased by a delighted young shopper.
Over the next few years, we experienced a wonderful following of loyal customers who frequently shopped with us, purchasing a wide selection of toys, gifts, filled party bags and balloons.
Let's fast forward a bit to (2005), the beginning of a new online shopping era. Carousel was taking a giant step into exciting, but unknown territory. We wanted to start selling our range of toys online via Amazon, Ebay and our own website, which, because hosting and website building was very expensive, was hosted in the USA and was partially developed for us by a team in Ukraine.
This proved to be highly successful as we were one of the very first toy retailers selling online.
A couple of years later… the competition became particularly intense and it was no longer possible to sell branded toys online as the large retailers were undercutting our prices and it was very hard to compete with them. This was when the idea came to start selling toys AND GIFTS online.
Not only did we have our small shop premises in Shalford, but we now also had a large warehouse in Godalming where we dispatched all our online orders. To be truthful, we first started dispatching our orders from David and Clare's home (but that's a whole other story and we don't have time to go into that).
Over the next 10 years, Carousel continued to grow. We were now successfully selling a wide selection of toys and gifts in-store and online via several different outlets.
David and Clare recruited their daughters; Kate, Eliza and Martha and the workforce slowly expanded.
This brings us swiftly onto March 2017, sadly it was time to say goodbye to Carousel Toyshop in Shalford. After almost 20 years working at the shop, it was finally time for Clare to retire. 'Yippee' for Clare!
Some of our very first customers were now becoming new parents themselves and loved bringing their new-borns and small children into Carousel. A lot of local customers had grown up with the toyshop and were sad to see it close, but nothing can last forever, and the time had come.
Carousel toyshop closed it's doors on March 31st 2017.
In January 2018, we moved to a new warehouse and office space in Wormley!
We continued to sell a great range of products online via our own website, Amazon and Ebay.
In August 2018, we celebrated our 20TH YEAR! Wahoo!
2019 bought exciting new changes for Carousel, with 3 mini additions to the Carousel Team ~ 3 little Grandchildren for David and Clare!
Moving into 2023, our goal is to make e-commerce more e-co by partnering with our suppliers and manufactures to ensure our range of products and services treds as lightly on our planet as it does on your pocket.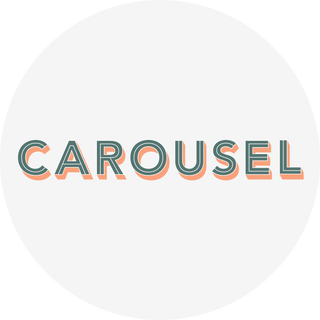 Our Warehouse location
Shoppydays Ltd t/a Carousel
Kallo Building, Units 1A-1C and 2A-2B,
Coopers Place,
Combe Lane,
Wormley,
Surrey,
GU8 5SZ