CAROUSSENTIALS: Giant Teddy Bear Soft Cuddly Toy
Happy Friday. Another lovely warm weekend stretching out ahead of us. Perfect weather for getting into the great outdoors and enjoying a spot of alfresco dining.
Whether your preference is for packed lunches in the park, ice cream on the beach, picnics in the woods or barbecues in your own back garden, we hope whatever you get up to, you have plenty of fun in the sun.
And, if heading off for a picnic in the woods is what's topping your list, well then, it's possible, you might just find this week's CAROUSSENTIAL offering, gathered there, hiding beneath a tree, having had the self same idea.

Can you guess where we're going with this?
No surprises (or disguises) -
- It's our very own, Carousel Toys exclusive, the extremely playful, but not-so-little:
GIANT TEDDY BEAR SOFT TOY
In today's CAROUSSENTIALS feature, we'll be properly acquainting you with this customer - and company - favourite; our adorable, super snuggly, jumbo teddy - Cookie Bear

Plus we'll be embarking on a delightful journey, examining the history of teddy bears and unravelling their dual nationality origins.
We'll also be looking at why these iconic cuddly toy creations hold such universal appeal and the myriad benefits teddy bears bring us; from providing comfort and companionship, to sparking imagination and fostering emotional well-being.

So, get your picnic packed (with lots of marvellous things to eat), put aside your cares, and get ready to have a lovely time today, as you discover all you've ever wished to know about the iconic soft toy classic that is, the Teddy Bear.
Pawsitively Charming
In the realm of cuddly toys, there are few creatures that captivate our hearts quite like a quintessential plush teddy bear.
These lovable stuffed toys have been cherished by children and adults alike for generations. From their soft fur to their endearing smiles, teddy bears have a unique way of bringing comfort and joy to our lives.
And for those seeking an extra dose of enchantment, at Carousel, we are thrilled to introduce you to a super special breed of teddies that truly stand out above the rest
These colossal companions take the art of huggability to new heights, offering an extraordinary experience that leaves a lasting impression.
But first, Who actually invented the Teddy Bear?
Well, like teddy bears, this answer has two arms:

The invention of the teddy bear is attributed mainly to a couple of significant individuals who played noteable roles during the same time period.

Over in the USA, Morris Michtom, a shopkeeper from New York, is considered to be one of the primary creators of the teddy bear:
Inspired by a political cartoon published in 1902, which depicted then President, Theodore Roosevelt, saving a captured bear cub, Michtom fabricated a stuffed bear and displayed it in his shop window, labelling it "Teddy's bear."

Simultaneously, in Germany, renowned toy manufacturer, Richard Steiff, had also been busy designing his own toy bear:
Steiff developed a first of its kind, jointed bear with movable limbs and a distinctive hump, which set it apart from other stuffed animals of the time. Steiff's teddy bears were introduced to the market in 1903 and became an immediate international sensation.
Both Michtom and Steiff played crucial roles in popularising the teddy bear and their creations soon became one of the most beloved childhood toys, transcending borders and cultures.

Today, teddy bears are available in a huge array of sizes, styles and materials. They continue to be cherished as timeless classics, and are often passed down through generations as treasured heirlooms.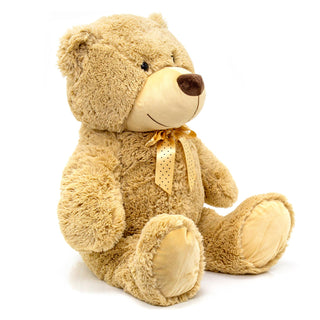 Extra Large 80cm Giant Teddy Bear Soft Toy - Cookie
Fall head over heels for our large teddy soft toy, an adorable giant bear with a friendly face and beautiful warm brown eyes. Its irresistible charm will capture your heart in an instant.

Experience the ultimate cuddling experience with our giant teddy bear! This super-sized, super plush and super cuddly soft toy is the epitome of delight. With its squidgy tummy, soft fur and loving expression, Cookie Bear is bound to bring joy to anyone who receives it.
Crafted from top-quality plush and measuring an impressive 80cm, our best selling Giant Teddy Bear is the perfect companion to snuggle up with.
WHAT MAKES OUR GIANT TEDDY BEARS SO SPECIAL
The Jumbo Bear Experience
Our magnificent cuddly bears tower over regular teddies, reaching heights of several feet or more. With their plush fur and inviting eyes, they exude an undeniable charm that instantly draws you in. For those seeking the ultimate cuddling experience, hugging one of our extra large teddies is like enveloping yourself in a cocoon of comfort - a delightful refuge where worries melt away. Whether you choose to nestle into their massive embrace or simply admire their grandeur from afar, our Giant Teddy Bears deliver a sense of awe and wonder that transcends the ordinary
Unleashing Imagination
Out giant teddy bear soft toys have a magical ability to ignite the fires of imagination. They become more than mere playthings; our jumbo teddy bears are steadfast companions in childhood adventures and trusted confidants in moments of solitude. Children can create whimsical worlds around these gentle giants, and even adults find solace in their soothing presence. The size of these cuddly bears inspires creativity, transforming living rooms into enchanted forests, and bedrooms into cosy wonderlands. In their embrace, dreams are born and cherished memories take root
Benefits Beyond Companionship
The undeniable charm of teddy bears lies in their ability to evoke feelings of comfort, warmth, and unconditional love. Their soft textures, gentle expressions, and huggable forms make them irresistible to people of all ages. Beyond their adorable exterior, these beautiful big bears offer numerous benefits to individuals of all ages. For children, our extra large teddies serve as comforting friends, helping to alleviate fears, soothe anxieties and foster emotional development. These furry companions also spark imagination, acting as steadfast companions in imaginative play and storytelling. Additionally, teddy bears can be valuable tools for adults, providing a source of relaxation, stress relief, and emotional support
A Gift That Speaks Volumes
When it comes to gift-giving, our giant teddy bear soft toys are unparalleled in their ability to convey emotions. Whether you're celebrating a special occasion or simply aiming to brighten someone's day, these jumbo bears will have a profound impact. The sheer magnitude of their presence can be seen as testament to the depth of your affection; a tangible representation of warmth and love. From birthdays to anniversaries, graduations to Valentine's Day, a giant teddy bear is symbolic of the care and thoughtfulness behind the gift. Plus, the act of giving a teddy bear signifies a genuine desire to provide comfort, support and love
THE BEARY BEST
All soft toys, especially teddies, weave a touch of magic into our lives. They redefine what it means to experience joy and comfort, providing a haven of solace and enchantment.
These majestic mega teddy bears, in particular, remind us that sometimes, bigger truly is better, as their immense size amplifies the love and happiness they bring.
So whether you choose to snuggle up with one of our extra Large Cookie Bears yourself, or instead, spread the love and give one as a gift, it will come as no surprise that these gentle giants capture the hearts of anyone they meet.
SHOP OUR FULL RANGE OF SOFT TOYS