FASCINATING FELINES: Our Best Gifts for Cat Lovers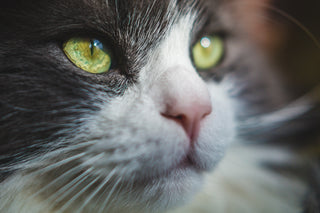 "I can say with sincerity that I love cats; furthermore I am going to give very good reasons why those who hate them are wrong." - Emily brontë
cats
Who can resist their charming ways? Combining grace and independence with unpredictable antics and sometimes just sheer silliness, the domestic feline has captured our hearts for centuries. Their therapeutic purrs, their grain-protecting hunting skills, and their quiet companionship have kept us firmly in their back pockets, showering them in food, shelter, and affection.
INTERNATIONAL CAT DAY
International Cat Day takes place on the 8th of August, and was first established in 2002 by the International Fund for Animal Welfare. Custodianship of this day was then passed on to International Cat Care, a charity based in the UK dedicated to pioneering improvements in cat care since 1958. One of the things iCatCare encourages for it is for cat owners to take five minutes a day to play with their cats. This is to improve their physical health and mental wellbeing - plus, us humans get the feel-good factor of nurturing this important bond with our pets.
Did you know?
International Cat Day may take place on August 8th, but a few countries have their own days! The USA celebrate on October 29th; Russia on March 1st; and Japan on February 22nd. The Japanese date was decided by poll in 1978, as the numbers of the date said together sounded a bit like "nyannyannyan" - or "meow meow meow" to English speakers!
Top GIFT IDEAS for cat loving humans
Whether you're the cat fan in the family, or your loved one is moggy-mad, these gifts will surely bring a smile to many a face.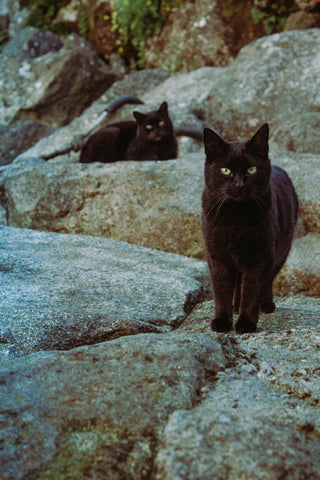 I'VE FOUND THAT THE WAY A PERSON FEELS ABOUT CATS—AND THE WAY THEY FEEL ABOUT [THEM] IN RETURN—IS USUALLY AN EXCELLENT GAUGE BY WHICH TO MEASURE A PERSON'S CHARACTER.
P.C. Cast, Marked
Top MUST HAVES FOR cats
Can't forget the their Royal Highnesses when it comes to gifting! From scratching posts to beds to treats, these gifts are perfect for the discerning kitty.
HUMAN BEINGS ARE DRAWN TO CATS BECAUSE THEY ARE ALL WE ARE NOT — SELF-CONTAINED, ELEGANT IN EVERYTHING THEY DO, RELAXED, ASSURED, GLAD OF COMPANY, YET STILL POSSESSING SECRET LIVES.
Pam Brown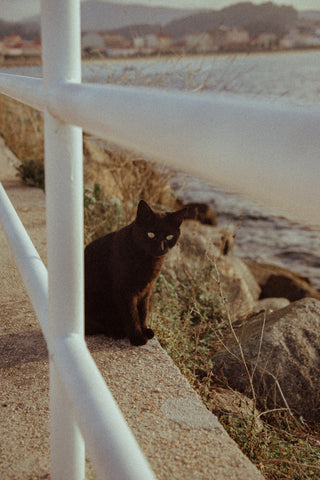 our favourite facts about cats!
The earliest known signs of a domestic cat were found in Cyprus, estimated to be from around 7500 - 7200 BC. Since they are not native to the island, the kitty could only have been brought over with human settlers!
Cats have much fewer taste buds compared with humans. They have around 470, opposed to our count of over 9000! They also have a temperature preference for their food, preferring it to be around 38 °C.
Cats have a very rare gait among mammals - when they walk, they do so by moving their right paws first, then their left. However, this changes when they move faster. When they move to a trotting speed, they start moving their paws diagonal from each other at the same time instead!
On October 18th, 1963, stray Parisian cat Félicette became the first and only cat to go to space! She made it back down to Earth, safe and well, but sadly only lived for two more months after her mission.
According to Guinness World Record, the oldest cat ever made it to 38 years and 3 days! Her name was Creme Puff. She lived from 1967 to 2005. Her owner also had another cat, Granpa Rex Allen, who lived from 1964 to 1998!
The earliest known cat name we have found is from the reign of Thutmose III (1479 - 1425 BC). Its name was Nedjem - meaning something similar to "sweet", or "pleasant". It was depicted on a damaged relief in the tomb of a noble man named Puimre.
ENJOY EVERY MEOW-MENT
From practical presents for the kitty cat themselves, to thoughtful gifts that will please both seasoned cat lovers and new kitten parents, our top picks cater to both feline and human needs.

So, whether you're looking to delight your beloved pet or show appreciation to a cat-lover in your life, these selections offer a paw-fect opportunity to celebrate the simple joys and cherished moments that come with a cat allowing you to love it!