Seaside Splendor: Discover The Best Nautical Accessories For Your Home
An interior design trend that is as perennial as the ocean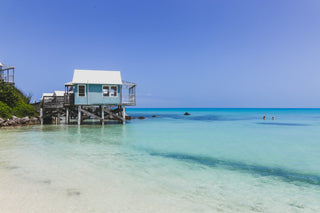 WELCOME ABOARD
Come join us as we set sail through the latest trends in coastal design: Prepare to be extoxicated by the serene colour palettes reminiscent of sun-kissed shores; the natural textures that mimic the ebb and flow of waves; and the whimsical accents that evoke the spirit of aquatic adventures.

Whether you're an outdoorsy seaside enthusiast looking to draw inspiration from your maritime muse, or a happy homebody simply seeking a tranquil escape within your own four walls, we're here to help you create a stylish and inviting inviting nautical retreat that will transport you to the blissful ambiance of coastal living
The Unstoppable Rise of the Nautical Trend
The origins of nautical interior design can be traced back to the coastal regions of countries like Greece, Italy, and France, where homes and buildings were designed to blend seamlessly with the surrounding environment. The use of light colours, natural materials and large windows, to maximise natural light are common features of nautical design. The aim being to create an airy and open atmosphere that reflects the tranquility of the beach and ocean.
The popularity of coastal interior design and nautical home accessories expanded in the 19th century, particularly in regions with strong maritime connections like New England in the US and coastal areas of the UK. With the rise of seaside tourism and the beach resort culture, coastal design quickly became synonymous with leisure, relaxation and a connection to nature.

In recent years, nautical interior design has gained widespread popularity and has evolved to incorporate various styles; from traditional coastal cottage to contemporary coastal chic. It has become a timeless and adaptable design trend that can be customised to suit different tastes and preferences.

Today, coastal interior decor and nautical home accessories are not limited to just to houses in coastal areas but are embraced by people living in various locations who are seeking to bring a sense of coastal charm and serenity into their homes. These design elements continue to evoke a sense of escapism, tranquility and a connection to the sea, making them enduring and beloved choices for many homeowners.
Tips and ideas to help you create a beautiful nautical-inspired home:
Choose Your Colour Scheme
The first thing to consider when designing a nautical-inspired home is the colour scheme. Typically, nautical colours include shades of blue, white, and beige. These colours reflect the sea, sand, and sky. You can also add touches of red to create a more vibrant look. A navy blue and white colour scheme is a classic choice for a nautical-inspired space
Incorporate Natural Materials
Nautical design is all about bringing the outside inside, so incorporating natural materials is essential. Wood is a fantastic material to use for flooring, furniture, and accents. For a more rustic look, you can use reclaimed wood or driftwood accents, which can be incorporated into wall art or lighting fixtures. For your rugs and curtains, you could using natural fibers like jute
Use Stripes and Patterns
Stripes are a favoured component within nautical interior design, working brilliantly on soft furnishings like cushions and curtains, whilst also stylishly updating floors and walls. When considering patterns and motifs, key shapes including anchors, ships' wheels, and lighthouses, really capture the essence of the trend, and can be used effectively to enhance the overall aesthetic
Tweak For Desired Effect
When contemplating your Nautical living space, think about exactly what you want to inspire. Are you interested in blending maritime elements with cottagecore, or are you envisioning a more Mediterranean inspired atmosphere? By combining various elements thoughtfully, you can construct a cohesive room that captures your desired style and ambiance
Our favourite Ornaments for your Nautical Themed Rooms
Set Sail for Style - Set the scene with our super seafaring home accessories
"THE OCEAN STIRS THE HEART, INSPIRES THE IMAGINATION AND BRINGS ETERNAL JOY TO THE SOUL"
Best Nautical Home Accessories for your Doors
Open 'Seas'ame - Add a touch of naval charm to your doors by accessorising them with our favourite nautical doorstops
"SMELL THE SEA AND FEEL THE SKY. LET YOUR SOUL AND SPIRIT FLY"
Tip Top Nautical Accessories for your Tabletops
Nauti-cool - Our bestselling nautical home decor for desks, mantlepieces, worktops and tables
"TAKE ME TO THE OCEAN. LET ME SAIL THE OPEN SEA. TO BREATHE THE WARM AND SALTY AIR AND DREAM OF THINGS TO BE"
Best Nautical Home Accessories for your Walls
Navigate your home's style with our nautical wall decor
CHART YOUR COURSE TO COASTAL CHIC
In the ever-evolving world of interior design, certain trends transcend what's 'in', captivating homeowners with their classic charm.
From coastal cottages to urban apartments, Nautical decor holds a universal appeal, seamlessly blending with an array of interior styles and effortlessly infusing spaces with a sense of tranquility and coastal enchantment.

With its timeless allure, versatile adaptability and ability to create a soothing atmosphere, nautical home accessories remain a desirable choice for homeowners of all architectural types. Its enduring appeal and ability to infuse spaces with a sense of escape make it a perfect fit for every house.
So, whether you reside by the shore, or amidst the bustling cityscape, we welcome you to embrace the eternal ebb and flow of nautical decor and transform your home into a coastal haven that captures the essence of relaxation, elegance and lasting style.