BONJOUR: Say Hello to Djeco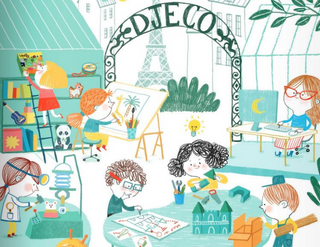 The Djeco Story
Djeco was founded in 1954 in Paris by Véronique Michel-Dalès, who devised imaginative educational games for children. They experienced a successful first life, winning several awards for their toys, and Véronique welcomed her son, Frédéric, in 1964.
As Frédéric grew up, the business went dormant. However, in 1989, the now-young man decided he would revitalise the company, and travelled the world importing toys into France. This global vision still lives on in the company today, as their toys are now available in over 60 countries and many different languages!
In 1997, following in his mothers footsteps, Frédéric created a range of educational toys - jigsaws and wooden toys to begin with, then the range grew with card and board games. Now, Djeco have over 1000 lines available, with products for sale in many countries, including prestigious museums; the Tate, the Louvre; MoMA, and others!
Our favourite Djeco products
We are so excited to bring a range of these wonderful, classic toys and games to our store, and we hope you'll love them as much as we do - in fact, here are 15 of our top picks for you to choose from.
See our full range of djeco toys